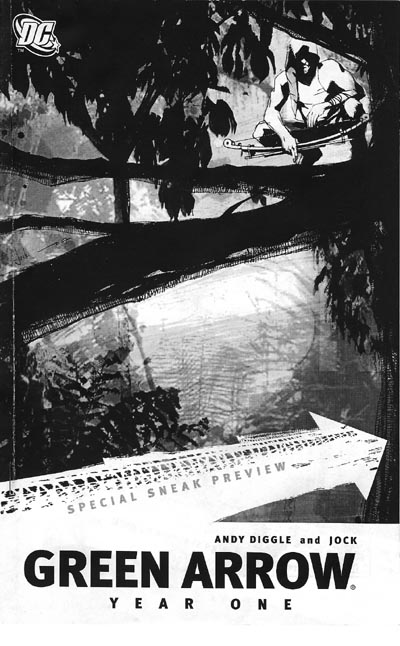 Those lovely folks at DC Comics were kind enough to hand out exclusive GREEN ARROW: YEAR ONE ashcan editions by myself and Jock at the Bristol Comic Expo this weekend. Of course, not everyone was able to blag one...
Fortunately, that great big sweetie-pie Bob Wayne kindly donated 100 extra copies - and I'm giving them away for free!
In conjunction with Lancaster's
First Age Comics
, I'll be giving away exclusive GREEN ARROW: YEAR ONE ashcans to the first 100 lucky entrants.
For the chance to blag your free ashcan, send an A4-sized SAE stamped with at least 48p UK postage to:
GREEN ARROW: YEAR ONE Ashcan Giveaway,
C/O Mark & Lucy Braithwaite,
First Age Comics,
Assembly Rooms Market,
King Street,
Lancaster LA1 1JN,
United Kingdom
Small print:


First come, first served! Once they're gone, they're gone.

One ashcan per entrant.

Non-UK entrants MUST include sufficient UK stamps (or an International Reply Coupon) to cover postage!

No returns, no refunds, no kidding.

No whining, wheedling or haggling will be entered into. Who needs it?

Good hunting!